Delightcar offers cheap car rental with driver in Zhengzhou city and surrounding areas. Our vehicles include a full range of vehicles like economy, intermediate, luxury, SUV's and big coach.

Zhengzhou is the the capital city of Henan Province and is located in the center of China. It is a national transport hub for highways, flight and railway. With booming economy and prosperous commerce the city is a good place to do business for people at home and abroad. Besides, the famous Shaolin Temple and Longmen Grottoes is near the city.
With cheap car service prices and large rental fleet vehicles on offer, Delightcar can meet your special requirements. and budget. You can go to all major destinations near Zhengzhou and we ensure you a pleasant trip and maximize your time and experience.
---
Our Zhengzhou car rental with driver includes:
1. Zhengzhou airport / railway station transfer
2. Full day car rental in Zhengzhou city
4. Zhengzhou to tourist attractions such as Shaolin Temple and Longmen Grottoes
5. Intercity transfer such as Zhengzhou to Kaifeng, Luoyang, Xuchang, Jiaozuo etc.
Check our car rental rates and book now:
Zhengzhou Car Rental With Driver
Price in USD (The full day rate is based on 100KM 8 hours per day for daily use)
Car Pictures
Car Type
Seats
Zhengzhou Airport/
Zhengzhou
Full Day in Zhengzhou City (8 hours 100km)
Zhengzhou - Shaolin Temple (9 hours)
Zhengzhou - Luoyang (One Way)
Passat/LaCrosse
4
$55
$130
$140
$185
Audi A6L/BMW 5 Series
4
$65
$170
$250
$250
Buick GL8
6
$70
$150
$160
$200
King Long
33
$160
$200
$210
$280
King Long
45
$170
$230
$240
$310
Notes:
1. Our car rates include driver, fuel, toll, parking fee and tax; no extra charge.
2. Full day car rental is based on 8 hours 100km.
3. Our driver will hold a sign with your name to pick you up from airport or hotel.
4. Payment needs to be made via PayPal when service is confirmed.
5. You will be fully refunded for cancellations made 24 hours before service.
6. We provide 24 hours English phone support to all customers.
Booking:
Tel: +86 151 0108 7860
Email: booking@delightcar.com
Address: Room 2-902, No.24, Huaqiaocun, Jianguomenwai Street, Chaoyang District, Beijing, China 100022
---
More Info:
Zhangzhou Map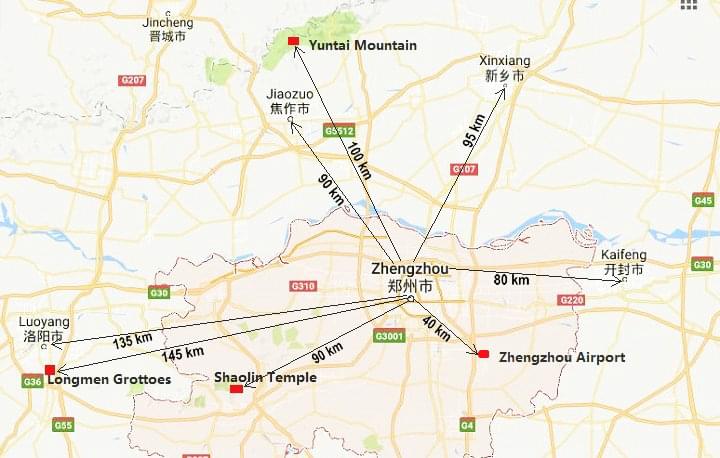 Distance of Zhengzhou to Different Places:
Zhengzhou – Zhengzhou Xinzheng Airport 40 km 50 minutes drive
Zhengzhou – Shaolin Temple 90km 1 hour 30 minutes drive
Zhengzhou – Dengfeng 72 km 1 hour drive
Zhengzhou – Longmen Grottoes 145 km 2 hours drive
Zhengzhou – Yuntai Mountain (or Yuntaishan) 100 km 1 hour and 30 minutes drive
Zhengzhou – Kaifeng 80 km 1 hour 20 minutes drive
Zhengzhou – Luoyang 135 km 2 hours drive
Zhengzhou – Xinxiang 95 km 1 hour 40 minutes drive
Zhengzhou – Jiaozuo 90 km 1 hour 30 minutes drive
Advised size of vehicle you need
1-2 Passengers – 4 seats car
3-5 Passengers – 6 seats van
6-12 Passengers – 17 seats van
13-25 Passengers –  33 seat coach
26-40 Passengers  – 51 seat coach
We offer clean and comfortable vehicles with professional drivers, The above car size suggestion is based on 1 person with 1 big luggage. If you have more luggage, consider a bigger size vehicle.